History
"Early days of foundation of the Research Society for Fracture"
Dr. Kisaburo Sakakida, Emeritus Professor, Kyoto Prefectural University of Medicine
Dr. Kisaburo Sakakida, Emeritus Professor, Kyoto Prefectural University of Medicine
The Research Society for Fracture, which has made several advances to this day, is celebrating its 30th anniversary this year. The 1st meeting of Research Society for Fracture, which was chaired by me as president, was held on April 15, 1978.
I would like to discuss herein the reason why I established this society together with several like-minded professors and held the 1st meeting of Research Society for Fracture meeting, as well as the social environment surrounding fracture treatment at that time.
I had been working at a university hospital since September 1968. In those days, most fracture patients were victims of traffic accidents. Treatment outcome was often disappointing or miserable, and not a few patients became holders of the physical disability certificate after long-term treatment.
Obsolete cases involving patients transferred from other facilities to our hospital included delayed union, pseudarthrosis, joint contracture, traumatic, and osteomyelitis, almost all of which were a result of a lack of basic principle and knowledge of fracture treatment, including reduction, fusion, and post-treatment. Moreover, in most of the cases, it was considered that it would have been possible for patients to be reintegrated into society early without any functional disorder after normal healing process, if only the patients had been treated by an expert of orthopaedic trauma from the initial stage of treatment.
Under these circumstances, I felt strong indignation and carried out a survey on emergency medical care system for fracture patients in Japan.
Generally, an ambulance, after arriving at an accident site, transports a fracture patient to an emergency hospital. However, in those days, national hospitals (including university hospitals) did not accept emergency patients, whereas large public and government hospitals were almost full all the time and kept issuing the "no bed available" sign to the emergency patient control center. It had become the actual situation that a fracture patient had been transported to an emergency private hospital.
Thus, we often witnessed scenes in which a fracture patient injured in front of a large government hospital had to be transported to a distant emergency private hospital. At that time, most of the president of those hospitals were general surgeons, many of whom could not properly deal with fracture. Therefore, actual treatment was left to an inexperienced part-time resident. Instructions given by the president of the hospital concerning the inpatient simply included one week of antibiotic medication and an expensive nutritional intravenous infusion. Even securing a broken limb to functional position was not conducted. The real motive of the hospital president for holding an emergency designation obviously lay in profiting from "mandatory automobile liability insurance" and in maneuvering the patients for this purpose. Insurance benefits that could otherwise have been beneficially used were said to have run out after only three days of hospitalization because of expensive intravenous infusion, etc.
After the opening of the Meishin Expressway in 1964 as the first expressway in Japan, there were frequent occurrences of high-energy injuries in inexperienced drivers and most of the injuries were open fracture. General surgeons was attached to hemostatic procedures only. As they closed wounds without performing appropriate debridement, infection always occurred, which was frequently complicated by traumatic osteomyelitis. In 1965-1974, it was usual that every hospital had a certain number of unfortunate inpatients in the department of orthopaedic surgery who had been staying for several years due to unsuccessful treatment.
A significant delay in response to emergency patients in Japan as compared to other countries had been one cause of the high mortality rate during emergency transport. This was also clearly observed from the fact that emergency medical technicians was introduced only recently. In the case of multiple injuries accompanied by organ failures, fracture treatment was inevitably delayed. It was difficult to promote improvement of the emergency system such as requesting large hospitals with emergency department to have an extra bed available for an emergency patient at anytime. In view of the above, with the aim of minimizing the number of unfortunate fracture patients as a result of frequent traffic accidents in Japan, we thought it an urgent necessary to set up a research society and make efforts to promote training and enlightening of surgeons and orthopaedic surgeon.
I was able to find a line in my old diary describing that invitation letters of to the 1st meeting of Research Society of Fracture were sent out on February 18, 1978. The addressees included Dr. Shiro Inoue (Murakami Memorial Hospital, Gifu Dental College), Dr. Osamu Sakurai (Hyogo College of Medicine), Dr. Yoshifumi Sunami (Okayama University), Dr. Kyoji Nasu (Kawasaki Hospital), Dr. Ohji Handa (Toyama Rosai Hospital), and Dr. Daishiro Yuge (Yamaguchi Prefectural Central Hospital).
These doctors had expressed their desire and agreement for the establishment of the research society and were well-versed in fracture treatment. The purpose of this society that it should be a meeting of experts in fracture treatment, it started as a closed-style meeting (members only). with the theme of "fracture of femoral neck". it was decided to discuss based on the case presentations and topic provisions from each hospital send the invitation. This first meeting was held at the Education Hall of Kyoto University and there were 30 to 40 patients who gathers only by word of mouth.
All oral presentations and discussions were recorded on tape and published in the journal "Fracture" (Volume 1).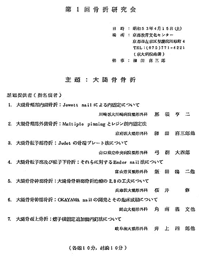 Program of the 1st meeting of the Fracture Study Group (Click to enlarge)
On launching a website for the Japanese Society for Fracture Repair
Dr. Moritoshi Itoman, First President
The Japanese Society for Fracture Repair (JSFR) has decided to launch a website. In this regard, first, I would like to express my sincere thanks to the members of the Public Relations Committee of this society. In addition, I would like to convey my warm greetings and give a brief introduction of the history of this Society.
In April 1978, under the leadership of Professor Kisaburo Sakakida (Kyoto Prefectural University of Medicine), the Society (then called Research Society for Fracture) was established as an academic meeting participated by like-minded people with the objective of "studying various problems related to bone and joint injuries and advancing/developing its solutions." In the early days, aiming to hold intensive discussions based on presentations on specific subjects given by keynote lecturers, the Research Society for Fracture meetings were held as a closed-style meeting twice a year in conjunction with the meetings of the Central Japan Association of Orthopaedic Surgery and Traumatology. At the 8th meeting in 1982, the Research Society for Fracture was renamed "Japan Research Society for Fracture". Since then, research presentation meetings were held once a year as an open-style meeting so that all orthopaedic surgeons interested in fracture treatment could freely participate. As a result of these efforts, the range of activities expanded.
As it has often been said that "orthopaedics starts with fracture and ends with fracture", the meetings were brisk, attended by a number of front-line doctors of hospitals who often encounter injuries of the musculoskeletal system. In parallel with the increase of society members, the number of presentations increased year after year. It reached a point where it became difficult to adhere to the original intent of "discussion held at a single hall", and the Japan Research Society for Fracture was expanded into a society in which young orthopaedic surgeons working on the front line of trauma medicine made presentations and active discussions at several halls. At the 18th meeting held under President Shougo Masumi (professor of Oita Medical University) in 1992, the society name was changed to the Japan Fracture Society (JFS), and further developments were achieved.
When Professor Sakakida, the society representative, passed the baton to Makoto Yamamoto (professor of Kitasato University) in 1989, the secretariat was also moved from Kyoto Prefectural University of Medicine to Kitasato University. After Professor Yamamoto retired in 1992, I was appointed representative and continued operation of the secretariat. However, as the number of members continued to increase year after year and exceeded 2,500. So the operation by a medical office of a single university reached a limit. Transition into the presidency system and outsourcing of the secretariat were approved in 2003. The regulations of the society as well as regulations related to the election of directors… etc. were established by the Board of Directors that was convened for a limited period of one year. As a result, the presidency system officially started in 2004 and the secretariat was moved from Kitasato University to Asatsu-DK (ADK).
Whereas the Japanese name of the Society, "Nihon Kossetsu Chiryou Gakkai", was preserved, the English name was changed to the Japanese Society for Fracture Repair (JSFR) and a new logo was designed. Today, the Board of Directors' meetings are held regularly and various committees have been established to carry out activities dynamically.
Treating the extremities and the spine is the duty of orthaopedic surgeons and members of the JSFR must stand at its forefront. It is also one of our biggest responsibilities to widely notify the general public of not easily relying on quasi-medical practices, such as Judo therapy and chiropractic manipulation, as there are a large number of patients who suffer from complications and lesions as a result of such practices. Let us consistently endeavor to further develop our knowledge and skills through exchange of information so that everyone can equally receive proper treatment and regain musculoskeletal function to the level before injury.
In my opinion, the JSFR should not remain as a place where persons who share the same interest simply gather to promote friendships and present research papers on academic issues. Especially in the JSFR, which is composed of orthaopedic surgeons who often encounter musculoskeletal system injuries in their daily practice, we should keep in mind that the outcome gained from scientific researches and clinical studies must always be returned to society, thereby contributing to society through the treatment of patients who suffer from locomotion system injury.
There has been is a tendency of the meeting of JSFR; when a new implant is released into the market, it is immediately taken up as a topic and always favorably evaluated. However, I am pleased to know that, although the number is still few, some presentations on fundamental studies on the fracture healing process and its biological/cytological mechanism and detailed clinical studies on fracture treatment-related complications have also begun to appear. A great many implant products have appeared on the market one after another, just like bamboo shoots after a rain, and many of them have disappeared soon after being cleverly distributed by implant companies. Of course, there are a number of excellent implant products, but there have also been reports of complications resulting from design deficiency in some of the implant products. Part of the responsibility lies with the sales companies who distribute them. However, as it is the doctors who actually use those products on a patient, we must realize that doctors should bear greater responsibility. Further, as cases of conservative treatment are decreasing, I suspect that the number of orthopedists who are not good at manipulative reduction of fracture or cast immobilization has increased. I consider this a major issue to be addressed.
From the above perspectives, it is my fervent hope that the Japanese Society for Fracture Repair will continue to develop not only as a venue for research presentations and opinion exchange through academic meetings but also as an organization that provides the membership with up-to-date information on the activities of various committees and collaborations with related academic societies in Japan and overseas on its website. However, as such provision of information would be useless if it were to work one way only. We will continue our efforts so that our website would serve as a forum where information and opinions are exchanged between members and the secretariat as well as among members themselves. Constructive opinions from the membership are always welcome.