Home>About> Presidents Message
Greeting from the President of Japanese Society for Fracture Repair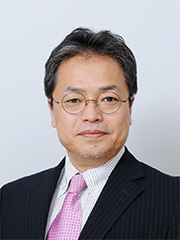 Welcome to the Japanese Society for Fracture Repair (JSFR). I am Yoshinobu WATANABE of Teikyo University Hospital and am honored to serve as the new President of the JSFR. I have taken over the role from the former great president, Dr. Toru Sato, and feel the importance of this responsibility.
The roots of JSFR were the first small group meeting held in 1978 in Kyoto by my mentor Dr. Kisaburo Sakakida (Professor Emeritus, Kyoto Prefectural University of Medicine), and the society celebrated its 40th anniversary last year, coinciding with the end of the "Heinsei" era and the beginning of the "Reiwa" era. I want to work on the development of this society with a new feeling.
Approximately 40 years ago, the results of fracture treatment in Japan were terrible because the many orthopaedic traumas were treated by general surgeons who were not specialized in orthopaedics. I think that the identity of the field of "Orthopaedics", which is the division of surgery that treats musculoskeletal diseases, has been well established during these four decades. On the other hand, the identity or specialty of the "Orthopaedic Trauma Surgeon" is not well established, even though the number of surgeries for fractures is estimated to account for half of all orthopaedic-related operations in Japan. Many attending surgeons at university hospitals and/or teaching hospitals cannot or do not intend to educate young surgeons on orthopaedic trauma. One of the reasons why they do not is that they believe that the mainstream focus of orthopaedics is spine and/or joint surgery, and that "orthopaedic traumas" can be left to a young surgeon.
Orthopaedic traumas cannot be treated with satisfactory clinical results without updated knowledge from biology, biomechanics, and surgical anatomy. For the members of JSFR, it is common sense that deep knowledge, rich experience, and superior skills are essential for the treatment of Orthopaedic Trauma. JSFR is playing an ever-increasing role in both the basic research and clinical practice for orthopaedic trauma.
In cooperation with all members and the board of JSFR, I would like to work with particular emphasis on the following items.
- Education of standard surgical treatment for young orthopaedic surgeons
JSFR holds an annual two-day educational workshop in autumn. By taking the basic course, young surgeons can learn the latest treatments for common fractures. Every year, approximately 300 young surgeons participate in this workshop. As with the advanced course, we would like to enhance this workshop as part of our educational activities.
- Sharing up-to-date knowledge of orthopaedic trauma by systematic review
Evidence-based health care requires knowledge from many clinical papers. Today, a variety of papers have been published, and it is impossible for a busy orthopaedic trauma surgeon to read all of them. Therefore, JSFR wants to create a system that extracts important evidence from the latest papers, which will be updated every year. This system will be centered on young members and will provide valuable feedback to JSFR members.
- Management of orthopaedic trauma registry
In April 2020, Japanese Orthopaedic Association introduced the JOA National Registry (JOANR). JSFR previously started a registry for open fractures (Database of Orthopaedic Trauma by JSFR, DOTJ) several years ago. There are also plans for a registry for acetabular fractures. The registries that JSFR administers not only keep track of the number of surgical cases but also follow up on the medical resources and treatment results required for treatment. We think that they can be used to obtain both evidence regarding treatment methods as well as data that can serve as a base for appropriate insurance treatment.
- Strengthening relationships with orthopaedic trauma-related societies in Asia, Europe, and the United States
In recent years, cooperation with orthopaedic trauma-related societies in Asian countries has been significantly increased. I would like young and mid-level orthopaedic trauma surgeons to further deepen their exchanges with colleagues in other Asian countries. In addition, the Orthopaedic Trauma Association (OTA) of the United States took the initiative to establish the International Orthopaedic Trauma Association (IOTA). The first triennial academic meeting of IOTA will be held in Amsterdam, the Netherlands, in December 2020. JSFR also wants to be actively involved in IOTA and OTA, so we would be grateful if many academic members participated in the meeting. Moreover, JSFR has been invited to OTA's 2021 annual meeting in Texas as Guest Nation.
- Active involvement in the treatment of pathological fractures due to bone metastases
One in two people will develop cancer in their lifetime. Many doctors consider orthopaedic trauma to have a very distant relationship with "cancer" care. I was one of them. With the advancement of immunotherapy for cancer and molecular targeted drugs, we are now in an era of coexistence with "cancer." In order to live a fulfilling life, the time has come for the orthopaedic trauma surgeon to be actively involved in treating pathological and impending fractures due to bone metastasis. I think that by participating this field, we can show our presence to the department in charge of cancer treatment and contribute to the improvement of the status of orthopaedic trauma.
- Review of financial management of conferences and academic meetings
Finally, we need to think about the finances of academic societies and academic meetings. In order to continue JSFR, funds are needed, including funds to support the activities of various committees. In addition, it has become more difficult to obtain donations and cooperation from pharmaceutical companies and medical device companies; this is true even for annual academic meetings. In order to maintain a sustainable society, it is necessary to rethink the financial aspects. We intend to discuss the society's financial situation with the directors and auditors and will develop a proposal for JSFR's financial sustainability.
1 September 2020
President of the Japanese Society for Fracture Repair
Yoshinobu Watanabe, MD